Company
Simone & Ivan founded AR Silverware on 16 January 2002 after working respectively 22 and 12 years with Alberti Roberto - Simone's uncle - in the family business which has existed since 1950.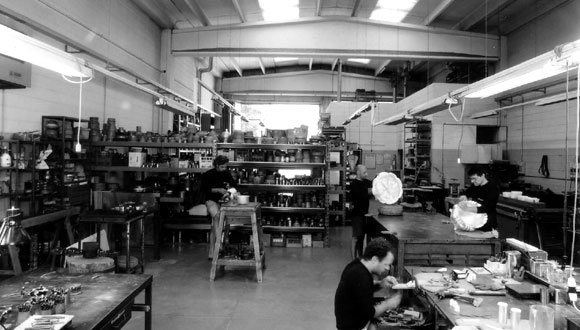 Grown and formed by the workers of that era, shooters hammer, engravers, editors in silverware, Simone & Ivan were born in 1964 and 1973 and they will carry forward to the present day collaborations with leading international brands and selected customers.
Workshop AR, as Simone likes to call it, will become, over the years, a point of reference for many customers worldwide. Refinement and study of luxury products have always been built in the exclusive laboratory in Cusano Milanino.
9 kilometers from the center of Milan, conveniently served with transport and roads, the laboratory can easily be reached in less than 25 minutes.
AR workshop aims with a historical sample of over 2500 models created in nearly 70 years in business by continuing to innovate, offering its discerning customers a fully equipped laboratory and knowledge in all manner of workmanship.
Workshop AR also has mechanical equipment for the molding of semi-finished goods of large size, whether they are in silver or silver-plated.
The products manufactured have always been treated in detail and manufacture of custom design is modern style that are the pride of this workshop.
I dedicate this work and this success to people who over the years have taught us to work, with patience and a step at a rate you are devoted to training young silversmiths.
I hope I have given to readers a reason to know us personally and look forward to your visit.
Thank you for the time devoted to read our history .
Have a good day Simone Pedraglio Ivan Agnesi